Banneker/Key Scholars Program
The Banneker/Key Scholarship gets its name from two very prominent figures in American history, Benjamin Banneker and Francis Scott Key, both of whom resided in Maryland. This exceptional scholarship opportunity is offered to only a select group of applicants who have demonstrated significant academic leadership and accomplishment in high school.
All freshman applicants to the University of Maryland who meet the early action deadline of November 1 and are invited to the Honors College are considered for nomination to the Banneker/Key Scholarship. No additional application materials are required. The Banneker/Key Scholarship Selection Committee members carefully review the entire application of each Banneker/Key Scholarship nominee. Semifinalists for the scholarship are invited to interview as part of the final selection process. Each fall, we welcome about 150 new Banneker/Key Scholars to campus.
In selecting Banneker/Key Scholars, the Committee seeks to identify potential academic leaders, who as individuals and as a group, will enrich and benefit from the campus learning environment.
News About Our Scholars
Kayla Foster '21 completed the Gemstone program and majored in Public Health Sciences with a Sustainability Sciences minor. Kayla's academic focus, multiple research lab experiences, and social outreach efforts during her four years at UMD concerned public health, justice, and wellness through their full dimensions of social and structural contexts. Epitomizing the ethics of the Gemstone program, Kayla has been a leader on and off campus, winning the Kirwan Prize for outstanding student leadership during her senior year. Kayla has played an integral role in training students in socially responsible leadership; she has played major roles in teaching, outreach, diversity education, and recreation and wellness efforts across campus; and she has served as the president of the UMD chapter of the Petey Greene Program, a prison education organization. After graduation, Kayla has pursued an internship in prison education.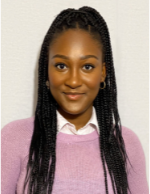 ---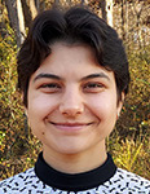 Nataliya Stepanova, '21, participated in the University Honors program, and earned degrees in Mathematics and in Computer Science, as well as a minor in Linguistics. She won a Marshall Scholarship, which allowed her to pursue her interests in natural language processing in the Ph.D. program at the University of Edinburgh, Scotland, beginning in Fall 2021. Nataliya grew up in Montgomery County, Maryland, and was always interested in puzzles. In fact, she started a puzzle club in high school! The one puzzle she couldn't solve was how to put together two subjects that long interested her: math and language. Nataliya credits a University Honors seminar she took during her freshman year, "Language and Mine", for helping her to put these pieces together, launching her on a path that has included research at two world-class language science laboratories, an internship in the State Department, and her own research program of developing social media technology capable of distinguishing between information and misinformation.
---
Tanay Wakhare is a recipient of the University Medal, the highest honor the University of Maryland bestows upon an undergraduate student. During his time at UMD, he received the Banneker/Key Scholarship, and received the Goldwater and Churchill Scholarships. He graduated from UMD in May 2020 with degrees in computer science and mathematics. He plans to pursue a master's degree in advanced computer science at the University of Cambridge as a Churchill Scholar, and then will go to the Massachusetts Institute of Technology to work on a doctorate in theoretical computer science.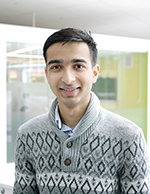 ---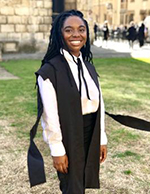 Katelyn Turner, '18 government and politics and philosophy with a minor in music performance, received a Fulbright Grant to pursue research on gender-based violence and women's labor market participation in Mauritius. Since she graduated, Turner has earned her master's degree from the University of Oxford, and now plans to return to the United States, to enroll in a J.D.-Ph.D. program in law and sociology, focusing on human rights.
---
In 2018, Stamps Banneker/Key Scholar Christopher Bambic was named one of the University of Maryland's two Winston Churchill Scholars. Christopher was also the recipient of a National Science Foundation Undergraduate Student Fellowship as well as the University Medal. Christopher earned his Honors Citation from University Honors, and received the Goldwater Scholarship in 2017. In May 2018, he graduated with his B.S. double degree in astronomy and physics. After pursuing a master's degree in astronomy at the University of Cambridge, Christopher will begin his Ph.D. research in astrophysical sciences at Princeton University.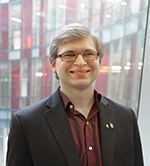 ---
Banneker/Key Scholar Yousuf Khan was also awarded the Winston Churchill Scholarship. A graduate of Integrated Life Sciences, Yousuf earned his B.S. in biological sciences in May 2018. Yousuf is working towards a master's degree in pathology at the University of Cambridge and later plans to pursue his Ph.D.
---
Three Banneker/Key Scholars were named as Goldwater Scholars in 2018. Paul Neves, a member of University Honors and a junior physics major, is interested in magnetic materials and plans to pursue a Ph.D. Lillian Sun, a member of Integrated Life Sciences and a junior double major in biological sciences and economics, is interested in developing novel cancer vaccines, and has plans to pursue an M.D./Ph.D. Tanay Wakhare, a member of University Honors and double major in mathematics and computer science, is interested in combinatorics, a branch of mathematics that focuses on counting and number theory, and will use his scholarship to pursue a Ph.D.
---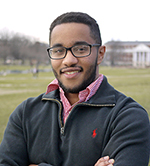 Elfadil Osman '17, a biological sciences major and Gemstone honors student received a 2017 Gates Cambridge Scholarship. Osman is only the second student in university history to be awarded this scholarship. He plans to pursue a Ph.D. in biochemistry at the University of Cambridge. "Elfadil is an exceptional young man who epitomizes the value of an honors education at a public research university," said Susan Dwyer, Osman's Gemstone team mentor and executive director of the Honors College at UMD. "He is an exciting scientist and a reflective human being fully attuned to the ethical dimensions of his work. I have enjoyed being regularly on the receiving end of Elfadil's probing questions for the past three years." Read more about Osman and the Gates Camridge Scholarship.
---
Aaron Solomon '17, a graduate of Integrated Life Sciences, was named a 2017 Marshall Scholar. Solomon majored in biological sciences with a specialization in cell biology and genetics and minored in computer science. He plans to pursue a Master of Science degree in genomic medicine at Imperial College London followed by a Master of Philosophy degree in bioscience enterprise at the University of Cambridge. Read more about Solomon's plans here.
---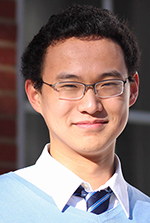 Fang Cao '15 was selected as a 2015 Rhodes Scholar to pursue a graduate degree in medical anthropology at the University of Oxford. Cao graduated from Integrated Life Sciences and earned a BS in biological sciences with a specialization in physiology and neurobiology. He won the Spirit of Maryland award in 2014. He is also the first University of Maryland student to be named both a Truman and Goldwater Scholar.
---
Mackenzie Burnett '15 was selected for Forbes' 2017 30 Under 30 list. Burnett earned her BA in Government and Politics and International Relations and completed the University Honors Program. Burnett and fellow alumnus Dan Gillespie founded Redspread, a collaborative software deployment tool. Their start-up was acquired by CoreOS, a platform for simplifying container management, and MacKenzie is now head of product for the company. She is also the Executive Director of Interact ATX, a non-profit that helps connect young technologists and thinkers.
---
Akshay Goyal '10 was also selected for the 2017 Forbes 30 Under 30 list. Goyal earned a BS in Finance and completed the Gemstone program. Goyal is the youngest person to become vice president of the investment firm Starwood Capital Group. Read more about Burnett's and Goyal's work here.