The Banneker/Key Scholarship gets its name from two very prominent figures in American history, Benjamin Banneker and Francis Scott Key, both of whom resided in Maryland. This exceptional scholarship opportunity is offered to only a select group of applicants who have demonstrated significant academic leadership and accomplishment in high school.
All freshman applicants to the University of Maryland who are admitted to the Honors College are considered for nomination to the Banneker/Key Scholarship. No additional application materials are required. The Banneker/Key Scholarship Selection Committee members carefully review the entire application of each Banneker/Key Scholarship nominee. Semifinalists for the scholarship are invited to campus for an interview as part of the final selection process. Each fall, we welcome about 150 new Banneker/Key Scholars to campus.
In selecting Banneker/Key Scholars, the Committee seeks to identify potential academic leaders, who as individuals and as a group, will enrich and benefit from the campus learning environment.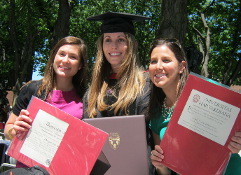 Morgan Goodspeed, Banneker/Key Scholar '09, Harvard Law School '12, graduated Summa Cum Laude from Harvard Law School in 2012 and was awarded the Fay Diploma, awarded to the graduating Harvard Law School graduate, by scholarship, conduct, and character, has given evidence of the greatest promise. Traditionally, the Fay Diploma is awarded to the person who graduates with the highest combined average for three years of study in residence at the Harvard Law School. Ms. Goodspeed will clerk for Judge Brett Kavanaugh in the U.S. Court of Appeals in D.C. beginning in August, and will clerk for Chief Justice John Roberts beginning the summer of 2013.
---
Banneker/Key Scholars led Commencement 2012! Heungkook "HK" Stephens shared his remarkable insight as the Student Speaker and Jenny Wang was honored as the University Medalist.
---
Carlos Sebastian Casarez wins Goldwater Scholarship in National Competition
Congratulations to Banneker/Key Scholar, Honors College, and Mechanical Engineering student Carlos Sebastian Casarez who has distinguished himself in research at Maryland, working under the mentorship of Prof. Sarah Bergbreiter, and during a summer 2011 placement in the Biomimetic Millisystems Lab at UC Berkeley. In the future, Carlos plans to pursue a Ph.D. in Mechanical Engineering, and conduct research and development of robotic technologies in industry or at a university.
---
Erin Hylton as Maryland's latest "Udall Scholar" for 2012 in recognition of her substantial accomplishments in environmental studies and actions.
Erin, a junior Civil Engineering major, is among around 80 students selected from approx. 600 nominees nationally for this prestigious award. At Maryland she has greatly distinguished herself in our campus' outstanding Engineers Without Borders chapter, of which she is now President, and she also heads the newer Maryland Sustainability Engineering organization. Erin is also a Banneker/Key Scholar, a member of the Federal Semester program (Energy and Environmental Policy), and of the Honors College.